Digital retail demands from online business to deliver more products to more consumers in less time. Warehouse management systems (WMS) help orchestrate and optimize the process across the supply chain.
Before choosing a WMS, retailers need to understand the complexity of supply chains:
Consider Supply Chain Complexity
Understanding and planning for these factors and characteristics of your supply chain will help you identify the best WMS solution:
Examine the size, set up and number of warehouses in your supply chain
Create reasonable growth projections for your business
Project the numbers for peak requirements to meet sudden surges in demand
The Advantages of WMS
WMS can reduce the amount of work involved in planning and executing the logistics of shipping and receiving – also they help you streamline the entire supply chain:
Keeping track of historical data across time
Comparing inventory levels and actions
Knowing which products to keep in stock for delivery and distribution
Cutting down on overhead costs by reducing inventory that doesn't move • Increasing supply chain performance
Optimizing the process of getting products to their final destination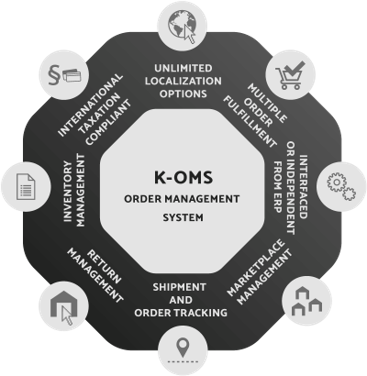 K-OMS – Unify WMS and OMS
Manage your orders with Keros' unified solution that handles multinational environments and multiple platforms with ease. K-OMS can be integrated within any existing e-commerce platform and is also available as stand-alone solution. It operates with or independent from your ERP. The best part: It also manages an unlimited amount of physical and virtual warehouses!
E-retailers have to manage warehouses, distribution centers and the stores – choose a WMS or OMS that creates a seamless supply chain from warehouse to customer!